Web Design Course In Jaipur
Join the best online classes for web design online course near you
INTRODUCTION/COURSE OVERVIEW
DICAZO, the Best Website Designing Institute in Jaipur, offers Beginner and master level best web designing course in Jaipur for students, corporate, and specific clients. The Best web designing course in Jaipur specializes in IT firms designed to make candidates eligible to make and maintain websites. Web designing has a significant scope in today's era; it includes graphic web design, user experience design, user interface design, site architecture, search engine optimization, Website UI Design, etc. Web designing consists of different skills and disciplines in producing and maintaining websites. By learning the web designing course in Jaipur, the candidate can learn about the different areas under this course, like web graphic design, interface design, standardized code, proprietary software user experience design, and SEO.
With increased startups and other business establishments, web design has become a more familiar process to boost their business. And well-qualified candidates in Web designing courses in Jaipur can help the companies build their reputation and have bright careers. Web designing courses in Jaipur have become the talk of the town in the past few years because of the growing popularity of the internet. Earlier, the web design course was limited to a few short-term courses and was offered by a limited number of institutes. But now, web designing courses in Jaipur are available in full-time courses as well as in numerous colleges.
What Will I Learn?
The Web Developer Bootcamp course has so much indispensable benefits to include:
Being able to create eye catchy templates with international look and feel,
Ability to complete understanding of web 3.0 standards.
Ability to create tableless responsive websites.
Ability to make interactive pages done in Flash with Action Script 3.0
Ability to understand content Management System and developing admin moduled websites.
You will have technical know how about Domain hosting, Site uploading & Maintenance.
Skills on SEO On-Site Optimization
Skills on SEO Off-Site Optimization
Knowledge in Adwords and Adsense management along with social media optimization
Continue to learn and grow as a developer, long after the course ends
Create static HTML and CSS portfolio sites and landing pages
Think like a developer. Become an expert at Googling code questions
Create complex HTML forms with validations
Use Bootstrap to create good-looking responsive layouts
Implement responsive navbars on websites
Use JavaScript variables, conditionals, loops, functions, arrays, and objects
Write Javascript functions, and understand scope and higher order functions
Understand the ins and outs of HTTP requests
Make a beautiful, responsive portfolio pages
Create a beautiful, responsive landing pages
Includes:
Flexible Batch timing
Subject Notes
Supplemental Resources
Portfolio Preparation
Certificate of Completion
Get Real time Projects to Practice
Attend 2 to 3 Classes with free of cost
Free Technical Support after completing course
If you absent any classes, back up Classes available
Free Technical Support on Freelancing Projects to Earn more Money
Free Interntet and Laboratory Facility
100% Placement Program
Job Assurity: 100% Guaranteed Placement Support. Assist you to get JOB in top MNC's, Mid & Small scale Companies
Resume Preparation Support
Conducted 2 to 3 Mock Tests
Mock Interviews to increase your confident level
You have opportunities to work on Real time Case Studies
Curriculum For This Course
Introduction to Web Design
Domain Names & DNS
Client and Server Software.
Static& Dynamic
Careers in Web Technologies
Introduction of Stock Photography
Types of Images and Image Editing Tools
Introduction to Adobe Photoshop
Using Photoshop Tools
Layers, Actions and Filters
Creating Custom Effects
Design Banners, Basic Website Layout
Design Complex website Layout
Conversation of PSD to XHTML
Introduction to CorelDraw
Tools in CorelDraw
Various Effects
Creating Banners
Creating logo
Structure of HTML
Basic HTML Tags
Advanced HTML Tags
Difference between HTML & DHTML
DHTML Basic tags
Introduction to Doc Types
Creating Simple HTML Pages
Cascading Style Sheets (CSS)
Introduction to CSS
Types of style sheets
Types of CSS Selectors
Complete CSS properties
Converting Table layout to CSS
Custom CSS Layout Design
Creating simple and dropdown menus
Creating Appealing forms using CSS
CSS Tips and Tricks with Hacks
Java Script
Client and Server side scripting
Introduction to Java Scripting
Types of JavaScript
Variables, operators, loops
Objects, Events and DOM
Common java script functions
Using Java script in Dreamweaver
Java Script Validations
Implementing Menus, Galleries etc
Introduction to Ajax
Real time Ajax Examples
Concepts of Degital Marketing (SEO)
Client Requirements/Specifications
Creating a concept and layout
Choosing a Color Scheme
Choosing Stock Photography
Texture and Typography
Design a Professional Layout
Conversation of PSD to CSS
Implementing JavaScript.
Web Hosting Basics
Types of Hosting Packages
Changing Name Servers
Linux and Windows CP
Using FTP Client
Maintaining a Website
Intro to Adobe Dreamweaver
Learning the interface
Defining a Dreamweaver site
Adding Content and Multimedia.
Creating user submission forms.
Importing a website design
Dynamic Features
Testing and Implementation
Various Browser Versions
Validating the dHTML & CSS
Common Compatibility Issues

Requirements
Have a computer with Internet
Be ready to learn an insane amount of awesome stuff
Prepare to build real web apps!
Brace yourself for stupid jokes about my dog Rusty
Who is the target audience?
This course is for anyone who wants to learn about web development, regardless of previous experience
It's perfect for complete beginners with zero experience
It's also great for anyone who does have some experience in a few of the technologies(like HTML and CSS) but not all
If you want to take ONE COURSE to learn everything you need to know about web development, take this course
Our Placements
Some of our students who got placed in renowned companies with good packages
Manish Das
Profile - Graphic Designer
Company - BYJUS
Package - 12 Lakh Per Annum
Sanjana Singh
Profile - Video Editor
Company - First India TV
Package - 8 Lakh Per Annum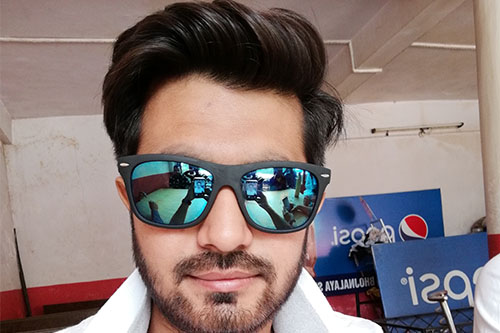 Mohammad Sohail
Profile - Website Devloper
Company - Dot Square
Package - 10 Lakh Per Annum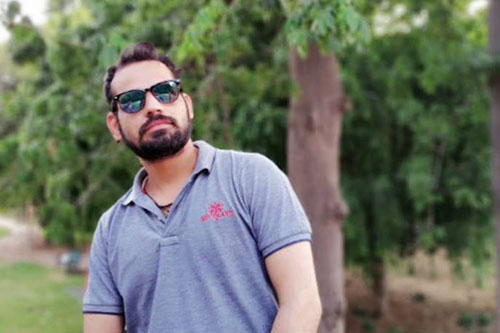 Saurabh Sharma
Profile - Digital Marketer
Company - Rajasthan Patrika
Package - 7.5 Lakh Per Annum
PORTFOLIO
At the end of every successful Subject each student should be able to create a very well defined portfolio for him or herself, this portfolios help in defining the abilities of each student. Examples of such portfolios you will be able to create contains:
Creating a number of Web templates with international look and feel.
Completely done website designs and hosting them on best web server.
Creating Flash website mockups.
Creating Animated E-presentation
Mock Interviews and on the spot web design competitions.
Placement
CAREER OPPORTUNITIES
At the end of The Web Developer Bootcamp course at DICAZO , successful students and trainees will be opportune to work as a professional Website designer and Programmer, with the rapid increase in the Demand for web programmers and Designers all across the country and the entire world in general, you will have diverse opportunities to work any where, and time and even anyhow you wish. Being a Professional Web Developer does not just means going to sit down in an office to work, you may also choose to sit back in your various homes while working and earning unmatched Paychecks as a freelancer.
WHY DICAZO JAIPUR?
The most important reason why you should consider coming to DICAZO to learn this Course is because DICAZO Jaipur offers the most integrated courses with the maximum possibility of job opportunities on your profile. As a part of DICAZO India which is a leading platform with thousands of Alumna's and Alumnus's whom have since graduation from the course have been making waves all over there chosen area of concentration while earning big time Cash and Paychecks, DICAZO Jaipur holds much more than just assurance for this course. For more info's on course details or any other issues please call us on 91 7976882245 or mail to:- dicazoinfo@gmail.com.
Students Also Learn These Courses
Frequently Registered Together
The Web Developer Bootcamp + The Complete Web Developer Course 2.0
FAQ
If you have any question about the course then you can find it here.

Best Web Designing Course Institute In Jaipur The Advanced Certification in Web designing in jaipur is an 100% practical course that encompasses all the essentials of web designing based on latest international demands and trends by the DICAZO Institute one of the leading training institutes imparting most professional web design modules. Q Introduction of Web Designing Course A strong internet presence has become essential for every new and growing business today. The first and foremost way for a business to begin online is by designing a spectacular website that can represent its core ideas and the brand. The web is all the content you see online, from this article to your bank's website to a game you play in a browser. It's the sites with memes, videos, and social media. At the most superficial level, web design is what makes those sites. With so much trade and entertainment occurring on the internet, knowledge of web design is a highly sought-after skill. Whether interested in building your own website or looking into a career in web building, a web design course can teach you how to create website pages like a professional. Web design and web development include building sites with code. To code websites, you must know the basics of HTML and CSS Along with Word Press. You must also know web design coding languages like JavaScript and jQuery. But great site design is more than code. Web design includes visual designs and how users interact with a site. With this need for crafting tremendous and unique websites, various career prospects in web designing have rapidly emerged. If you are someone with a knack for programming skills coupled with an eye for crafting stunning aesthetics, you can pursue a web designing course and gather the technical skills and knowledge required to be a web designer. Web design classes teach you how to design, layout, and edit websites and pages, to give them the distinct look and feel that you want. Web design courses of Dicazo teach many skills related to designing and building web pages of every kind. The DICAZO – Best Website Designing Institute in Jaipur Dicazo is known as the Best Website Designing Institute located in Raja Park, Jaipur. We are recognized for offering specialist training In Website Designing Course. We provide certification training courses in the field of Web Designing along with Web Development. The Certification in Web Design course is ideal if you've always wanted to create your own website but lacked the skills or knowledge to do so. Our training course curriculum is planned to equip you with relevant information regarding the best and most current developments that are being made use of in the sector. The Advanced Certification in Web designing in Jaipur is a 100% practical course that encompasses all the essentials of web designing based on the latest international demands and trends by the DICAZO, one of the leading training institutes imparting most professional web design modules. This comprehensive, easy-to-understand course, Aimed at both the novice and intermediate web designer, will enhance your understanding of web development tools and techniques. Topics covered include the essential tools for web page development, including HTML, Cascading Style Sheets (CSS), and Adobe Dreamweaver. It also examines the practical steps needed to build a website, such as registering a domain name and choosing a hosting account. We provide the Advance Website Designing courses to students, corporate, and specific clients. In this manner, we are considered the most effective and even experts to get indulged in the training sessions to be a professional in the Website Designing area of any kind. We have numerous training courses to provide, depending upon our students' requirements and choices. Any individual could select the very best training course based on their requirements and interests in becoming a specialized individual in the website design industry. Best Web Design Course Institute In Jaipur Address A-4, Janta Colony, Near Pink Square Mall, Adarsh Nagar, Raja Park, Jaipur 302004 Contact No. 7976882245, 7976882245, 7976882245 Duration 6 Months Batch Size 5-10 Teaching Method Online/Offline Teachers Name Pushpendra Singh The Certification in Web Design course is ideal if you've always wanted to create your own website but lacked the skills or knowledge to do so. Aimed at both the novice and intermediate web-designer, this comprehensive, easy-to-understand course will enhance your understanding of web development tools and techniques. Topics covered include the essential tools for web page development including HTML, Cascading Style Sheets (CSS), and Adobe Dreamweaver. It also examines the practical steps needed to build a website such as registering a domain name and choosing a hosting account. OBJECTIVE OF THIS COURSE The Advanced Certification in Website designing would develop the students skill set in designing internationally standard and state of art websites. It also incorporates the use of web sites in web marketing , advertising as well as optimizing websites for search engines. COURSE OUTLINE - Web User Interface (UI) design Core Web Design and designing responsive websites Interactive Multimedia with Flash Web Design Project + Internet marketing (Overview) COURSE BREAKDOWN Module1. Web User Interface (UI) Design Planning a website using a structured document Site Navigation Types of UI Creating web illustrations like buttons, banners & bars Typography for Web/ Google Fonts Scribbling the layout & Web visualisation techniques Creating web templates & site mockups Slicing the templates Recognizing Good design vs. Bad Design Optimizing graphics and images for faster downloads Module2. Core Web Design and designing responsive website HTML/DHTML & HTML Editor tools Advanced Style Sheets (CSS) techniques Creating DIV based table less websites Web 2.0 & 3.0 standards Forms and validations Java Script for web page design Database connectivity(PHP overview) Testing and Maintaining a website FTP controls. Module3. Interactive Multimedia with Flash Creating animated contents to be integrated in a website Creating E-greetings & E-Presentations animated banners and other animated interactive web components Creating contents for the E-learning Advanced Action Script 3.0 Creating limited animation for web and games for web Module4. Web Design Project +Internet marketing (overview) Web templates with international look and feel Completely done website designs and hosting them on web server Interactive Flash website mockups Animated E-presentations Java Script templates Table less websites Forms submission examples Portfolio template Design web showcase Portfolio design Domain hosting, Site uploading & Maintenance AFTER THE COURSE, STUDENTS WOULD BE ABLE TO Create Responsive Websites Use web navigation on web 3.0 standards Integrate variable scripts in a web page and create table-less websites Make interactive pages done in Flash with action script Upload and Launch Websites AFTER THE COURSE, STUDENTS WOULD BE ABLE TO WORK AS Web Designer UI designer Flash designer Action Scriptor What Is The Fees Of Web Designing Course? Basic Website Designing course fees starts from Rs. 20,000 while advanced level courses may cost Rs. 60,000. The fees will depending on the course you choose. There are also levels of training you can choose based on your existing knowledge and choose the course that meets your requirement. Google Web Designing Course best web designing institute in jaipur (based on 2490 customer reviews) Programme Schedule Normal Track Course Duration: 6 months Schedule: 1 Hour/5 days a week Fast Track Course Duration: 3 months Schedule: 2 Hour/5 days a week Best Computer Institute In Jaipur Phone Number: 7976882245 Mobile Number: +91-7976882245,7976882245 Website: www.dicazo.com Address: A-4, Janta Colony, Near Adarsh Nagar Police Station, Raja Park Jaipur -302004 Landmark: Near Pink Square Mall Location: Adarsh Nagar Courses Offered: Web Designing, Graphic Designing, Programming Languages, Digital Marketing, Vfx, Animation, Game Designing, Photography, App Development, Photoshop, Coreldraw, Unreal Engine, etc. Introduction of Best Website Designing course in Jaipur Web Designing Course Module Best Web Designing Institute in Jaipur Faqs Introduction of the Best Website Designing course in Jaipur DICAZO, the Best Website Designing Institute in Jaipur, offers Beginner and master level best web designing course in Jaipur for students, corporate, and specific clients. The Best web designing course in Jaipur specializes in IT firms designed to make candidates eligible to make and maintain websites. Web designing has a significant scope in today's era; it includes graphic web design, user experience design, user interface design, site architecture, search engine optimization, Website UI Design, etc. Web designing consists of different skills and disciplines in producing and maintaining websites. By learning the web designing course in Jaipur, the candidate can learn about the different areas under this course, like web graphic design, interface design, standardized code, proprietary software user experience design, and SEO. With increased startups and other business establishments, web design has become a more familiar process to boost their business. And well-qualified candidates in Web designing courses in Jaipur can help the companies build their reputation and have bright careers. Web designing courses in Jaipur have become the talk of the town in the past few years because of the growing popularity of the internet. Earlier, the web design course was limited to a few short-term courses and was offered by a limited number of institutes. But now, web designing courses in Jaipur are available in full-time courses as well as in numerous colleges. A strong internet presence has become essential for every new and growing business today. The first and foremost way for a business to begin online is by designing a spectacular website that can represent its core ideas and the brand. The web is all the content you see online, from this article to your bank's website to a game you play in a browser. It's the sites with memes, videos, and social media. At the most superficial level, web designing is what makes those sites. With so much trade and entertainment occurring on the internet, knowledge of web designing is a highly sought-after skill. Whether you are interested in building your website or looking into a career in web building, the best website designing course in Jaipur can teach you how to create website pages like a professional. Web designing and web development include building sites with code. To code websites, you must know the basics of HTML and CSS Along with Word Press. You must also know web designing coding languages like JavaScript and jQuery. But great site design is more than code. Web designing includes visual designs and how users interact with a site. With this need for crafting tremendous and unique websites, various career prospects in web design have rapidly emerged. If you are someone with a knack for programming skills coupled with an eye for crafting stunning aesthetics, you can pursue the best web design course in Jaipur and gather the technical skills and knowledge required to be a web designer. Web design classes teach you how to design, layout, and edit websites and pages to give them the distinct look and feel you want. Web designing courses in Jaipur by Dicazo, the best website designing institute in Jaipur, teach many skills related to designing and building web pages of every kind. Web Designing Course Module Module1. Web User Interface (UI) Design Planning a website using a structured document Site Navigation Types of UI Creating web illustrations like buttons, banners & bars Typography for Web/ Google Fonts Scribbling the layout & Web visualization techniques Creating web templates & site mockups Slicing the templates Recognizing Good design vs. Bad Design Optimizing graphics and images for faster downloads Module2. Core Web Design and designing responsive website HTML/DHTML & HTML Editor tools Advanced Style Sheets (CSS) techniques Creating DIV based table less websites web 2.0 & 3.0 standards Web Forms and validations: Java Script for web page design Database connectivity (PHP overview) Testing and maintaining a website FTP controls Module3. Interactive Multimedia with Flash Creating animated contents to be integrated in a website Creating E-greetings & E-Presentations Animated banners and other animated interactive web components Creating contents for the E-learning Advanced Action Script 3.0 Creating limited animation for web and games for web Module4. Web Design Project +Internet marketing (overview) Web templates with international look and feel Completely done website designs and hosting them on web server Interactive Flash website mockups Animated E-presentations Java Script templates Table less websites: Forms submission examples Portfolio template Design web showcase Portfolio design Domain hosting, Site uploading & Maintenance The DICAZO – Best Website Designing Institute in Jaipur Dicazo is known as the best website designing institute in Jaipur located in Raja park. . We are recognized for offering specialist training In Website Designing Course. We provide certification training courses in the field of Web Designing along with Web Development. The Certification in Best Web Designing course in Jaipur is ideal if you've always wanted to create your website but lacked the skills or knowledge to do so. Our training course curriculum is planned to equip you with relevant information regarding the best and most current developments being made use of in the sector. The Advanced Certification in Web designing course in Jaipur is a 100% practical course that encompasses all the essentials of web designing based on the latest international demands and trends by the DICAZO, one of the leading training institutes imparting most professional web designing modules. This comprehensive, easy-to-understand course, Aimed at both the novice and intermediate web-designer, will enhance your understanding of web development tools and techniques. Topics covered include the essential tools for web page development, including HTML, Cascading Style Sheets (CSS), and Adobe Dreamweaver. It also examines the practical steps needed to build a website, such as registering a domain name and choosing a hosting account. We provide Advance Website Designing courses to students, corporate, and specific clients. In this manner, we are considered the most effective and even experts to get indulged in the training sessions to be a professional in the Website Designing area of any kind. We have numerous training courses to provide, depending upon our students' requirements and choices. Any individual could select the best training course based on their requirements and interests in becoming a specialized individual in the website designing industry. Faqs 1. What is a Web Designing course? A Web Designing course belongs to the field of Computer Science and IT. It enables students to learn various techniques, tools, and programming languages to create and maintain web pages. 2. Who can enroll in this course? Any graduate with basic internet knowledge needs to build a website on World Wide Web. A person who needs to gain expertise in the designing field for a challenging career. Those who wish to redefine the web technologies with their skills and expertise. 3. Do I get a schedule according to my requirement? Yes. We offer a customized timing schedule according to the candidate's requirements. We provide both weekdays as well as weekend classes. 4. Do you give a certificate? Yes. Upon successful completion of the training, we issue certificates to every candidate signed by our authoritative person. 5. Will I can create my own website after finishing the course? Of course, you will gain expertise in creating websites for reputed companies or your businesses! 6. What is the scope of this field? Almost every business depends on having its presence on the www. Individuals who complete the course can excel in their creativity and expertise in web designing and development, a great asset for many internet marketing organizations. best institute for web development course Best Website Designing Course Best Website Designing Course in Jaipur Best website designing institute in jaipur Course for Website Designing in Jaipur web design and development course web designing course web designing course fees web designing course in Jaipur web designing course near me web designing course online web development course in jaipur website Designing Course In jaipur
Enquiry Now