OBJECTIVE OF THIS COURSE
The Advanced Certification in Website designing would develop the students skill set in designing internationally standard and state of art websites. It also incorporates the use of web sites in web marketing , advertising as well as optimizing websites for search engines.
COURSE OUTLINE -
Web User Interface (UI) design
Core Web Design and designing responsive websites
Interactive Multimedia with Flash
Web Design Project + Internet marketing (Overview)
COURSE BREAKDOWN
Module1. Web User Interface (UI) Design
Planning a website using a structured document
Site Navigation Types of UI
Creating web illustrations like buttons, banners & bars
Typography for Web/ Google Fonts
Scribbling the layout & Web visualisation techniques
Creating web templates & site mockups
Slicing the templates
Recognizing Good design vs. Bad Design
Optimizing graphics and images for faster downloads
Module2. Core Web Design and designing responsive website
HTML/DHTML & HTML Editor tools
Advanced Style Sheets (CSS) techniques
Creating DIV based table less websites
Web 2.0 & 3.0 standards
Forms and validations
Java Script for web page design
Database connectivity(PHP overview)
Testing and Maintaining a website
FTP controls.
Module3. Interactive Multimedia with Flash
Creating animated contents to be integrated in a website
Creating E-greetings & E-Presentations
animated banners and other animated interactive web components
Creating contents for the E-learning
Advanced Action Script 3.0
Creating limited animation for web and games for web
Module4. Web Design Project +Internet marketing (overview)
Web templates with international look and feel
Completely done website designs and hosting them on web server
Interactive Flash website mockups
Animated E-presentations
Java Script templates
Table less websites
Forms submission examples
Portfolio template
Design web showcase
Portfolio design
Domain hosting, Site uploading & Maintenance
AFTER THE COURSE, STUDENTS WOULD BE ABLE TO
Create Responsive Websites
Use web navigation on web 3.0 standards
Integrate variable scripts in a web page and create table-less websites
Make interactive pages done in Flash with action script
Upload and Launch Websites
AFTER THE COURSE, STUDENTS WOULD BE ABLE TO WORK AS
Web Designer
UI designer
Flash designer
Action Scriptor
What Is The Fees Of Web Designing Course?
Basic Website Designing course fees starts from Rs. 20,000 while advanced level courses may cost Rs. 60,000. The fees will depending on the course you choose. There are also levels of training you can choose based on your existing knowledge and choose the course that meets your requirement.

Web Designing Course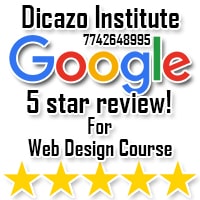 Rated 4.9/5
(based on
2490
customer reviews)
Programme Schedule

Normal Track
Course Duration:
6 months
Schedule:
1 Hour/5 days a week
Fast Track
Course Duration:
3 months
Schedule:
2 Hour/5 days a week