Model Photography Course In Jaipur
Learn how to use Model Photography from a top-rated Professional Photographer instructor
Introduction/Course Overview
Welcome to this Model Photographer course.  This class is divided into three main sections. In the first section I will start with Photography Equipment and Gear ... Learn what stuff you need to get started with model photography. In the second section, I will cover model photography, like where I would find the model and take pictures of her. In the last section we will explore how to profit with the images you take through photo gigs, creating images for your online listings, and submitting your images to be accepted for stock photography sales sites

Two years in the making and hundreds of dollars spent to make this Model Photography Course to teach you how to take amazing pictures as a model photographer. To make this class, I had to pay the models featured in this course ... But I have already Created a Photography Product with these Photos that has earned me a Nice Profit.. As you get better and learn the art of model photography you will eventually get paid to snap pictures of models and have a Great time doing it!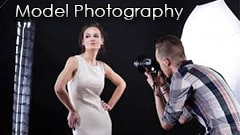 What Will I Learn?
Learn how to make great profits with model photography ... and have FUN doing it!
How to select the RIGHT Gear & Equipment and explanation why they are needed
Introduction to 5 different Photography Models used to create this class
BEST Methods for finding a model and setup a photo session
See me edit photos and taking pictures .. My Best Tips!
Take you on a live modeling set
Includes:
Flexible Batch timing
Subject Notes
Supplemental Resources
Portfolio Preparation
Certificate of Completion
Get Real time Projects to Practice
Attend 2 to 3 Classes with free of cost
Free Technical Support after completing course
If you absent any classes, back up Classes available
Free Technical Support on Freelancing Projects to Earn more Money
Free Interntet and Laboratory Facility
Curriculum For This Course
About this Class
Essential Tips
Start your new Adventure
Join the Support Group
Equipment & Gear
Photography Tips
Which Equipment to Use
Studio Lights
What Camera to Use
Essential Equipment
Memory Cards Protection
Using Camera Filters
Finding a Model
Getting Started
1st Modeling Assignments
How much to pay
Using Model Mayhem
Create Photographer Profile
Working with Models
Preparing for Pictures
Interview with Laurèn
Video Scene #1
Video Scene #2
Video Scene #3
Model Photography Sessions
Planing a Photo Shooting
Photo Session Overview
Photos with Model Laura
Photo Session with Lauren
Photo Session with Alex
Editing Your Pictures
Editing: Photo Session #1
Editing: Photo Session #2
Marketing Your Photo Business
Making a Website
Setting Your Pay Rate
Creating Business Cards
Masking Your Domain
Competition & Finding Mentors
Facebook Marketing
Creating Facebook Page
Facebook Page Overview
Creating Facebook Ads
Profit with Model Photography
Modeling on Etsy
Get Paid with Instagram
Stock Photography
Profit with Stock Photography
Requirements
There is not any requirements for this course.
A computer with internet
It is helpful to have a basic understanding of and interest in Project Management
Who This Course Is For?
Existing project managers wishing to get certified in recognition of their skills and experience, or others who wish to train to become accredited project managers.
New managers interested in understanding the key project management concepts to improve their skills and professional credibility
Professionals in the Project Management space who desire to learn the content necessary to become a PMI certified PMP credential holder
WHY DICAZO JAIPUR?
The most important reason why you should consider coming to DICAZO to learn this course is because DICAZO COMPUTER INSTITUTE offers the most integrated courses with the maximum possibility of job opportunities on your profile. As a part of DICAZO India which is a leading platform with thousands of Alumna's and Alumnus's whom have since graduation from the course have been making waves all over there chosen area of concentration while earning big time Cash and Paychecks, DICAZO Jaipur holds much more than just assurance for this course. For more info's on course details or any other issues please call us on 91 9887063980 or mail to:- dicazoinfo@gmail.com.
Students Also Learn These Courses
Frequently Registered Together
Digital Marketing + Video Editing