Twitter Marketing Course In Jaipur
Learn how to use Twitter Marketing course for Local Business
Introduction/Course Overview
This course is for you if you have a local Business and you would like to start to use Twitter but you don't have a clue how to do it. Start your Twitter account for your Local Business from scratch. Local business have specific needs and your Twitter account has to be tailored according to that. Set your account as the big restaurant twitter accounts do it, in a very professional way and knowing tips that any restaurant community manager uses for his Twitter account.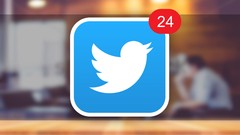 What Will I Learn?
Build a professional Twitter account from the scratch and use it in a professional way knowing a lot of social media tips for your restaurant and local business
Includes:
Flexible Batch timing
Subject Notes
Supplemental Resources
Portfolio Preparation
Certificate of Completion
Get Real time Projects to Practice
Attend 2 to 3 Classes with free of cost
Free Technical Support after completing course
If you absent any classes, back up Classes available
Free Technical Support on Freelancing Projects to Earn more Money
Free Interntet and Laboratory Facility
Curriculum For This Course
Just the beginning
Introduction
Start your new Twitter Account
Design your Account
Prepare your Twitter Appealing to your costumers
Avatar and Header
Bio and Hashtag
How are followers and followings
Start tweeting!
How to write a tweet
Pin a Tweet
Masseges
Trending Topics
use the search Tool
How to use the List
Content Ideas to tweet
Resources
Requirements
You don't need to have any knowledge about Twitter, you will learn it in this social media course
Who This Course Is For?
If you don't have a clue how to use Twitter and you are interested in social media and in starting your professional Twitter account for your Local business from scratch
WHY DICAZO JAIPUR?
The most important reason why you should consider coming to DICAZO to learn this course is because DICAZO COMPUTER INSTITUTE offers the most integrated courses with the maximum possibility of job opportunities on your profile. As a part of DICAZO India which is a leading platform with thousands of Alumna's and Alumnus's whom have since graduation from the course have been making waves all over there chosen area of concentration while earning big time Cash and Paychecks, DICAZO Jaipur holds much more than just assurance for this course. For more info's on course details or any other issues please call us on 91 9887063980 or mail to:- dicazoinfo@gmail.com.
Students Also Learn These Courses
Frequently Registered Together
Digital Marketing + Video Editing