Advanced Social Media Marketing Course In Jaipur
Learn how to use Advanced and professional social media marketing strategies to reach 1,000,000+ people and build a loyal following
Introduction/Course Overview
This social media marketing course comes with an unconditional, Dicazo-backed, 30-day money-back guarantee. This is not just a guarantee, it's my personal promise to you that I will go out of my way to help you succeed just like I've done for thousands of my other students.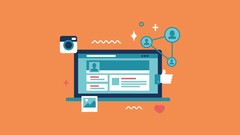 What Will I Learn?
Learn intermediate and advanced social media marketing strategies
Many ways to promote your business using social media marketing
Promote your business on Twitter
Promote your business on YouTube
Learn about the power of building your own large social media marketing channels
Learn how to increase social sharing of your product
Learn how to brand yourself using social media
Create an effective social media marketing strategy
Promote your business on Facebook
Promote your business on Quora
Combine SEO and social media for double the effect
Get personal help from the instructor if you have specific questions
Save money because you won't have to hire marketing consultants or agencies
Includes:
Flexible Batch timing
Subject Notes
Supplemental Resources
Portfolio Preparation
Certificate of Completion
Get Real time Projects to Practice
Attend 2 to 3 Classes with free of cost
Free Technical Support after completing course
If you absent any classes, back up Classes available
Free Technical Support on Freelancing Projects to Earn more Money
Free Interntet and Laboratory Facility
Curriculum For This Course
Social media marketing course introduction and Welcome
Social media marketing course introduction and Welcome
Subtitles, video quality, your certificate, tips on watching & common course Q&A
Cool post idea to get a lot of sharing from social media for Free
Facebook marketing
facebook marketing section introduction
What you can expect from different promotional strategies on Facebook
Facebook groups vs personal pages vs business pages
NEW! How to use images in facebook posts to increase engagement
How to create the colored image box for text posts to get more engagement
Many places and ways to get free images and gifs to use in your posts
How to sell on Facebook using pinned posts
Should you ask people to follow vs. share from your website
How to sell with Facebook Marketplace: New feature from Facebook
Marketing from your personal page (easiest Facebook Marketing)
Easiest Facebook marketing: From your own personal page
Personal profile privacy settings to make promoting from personal profile easier
How to create a professional Facebook Business page
Facebook page section introduction
beginning to set up your Facebook page
Setting the brand image
Facebook page about section
Creating a store on your Facebook page
Going a store on your Facebook and in general
Explaining the viral coefficient formula
How to boost virality
Viral coefficient calculator
Ads having a role in virality
How to use viral memes to go viral and boost sharing
Introduction to using memes
How to begin finding viral memes to post on your social media
How to create your own image memes in minutes and for free
How to create your own gifs to go viral
ADVANCED; Images SEO strategy for branding,sales,and SEO boost
Facebook Live
Introduction of Facebook live
Going live on Facebook from your phone
How to run your Facebook live sessions
Facebook Marketing from a business page
How to set up your Facebook business page
Hack to boost engagement in a Facebook page
Star rating on your Facebook business page
Youtube marketing
YouTube marketing section introduction
How a professional marketer would approach promoting a YouTube video
YouTube SEO introduction
YouTube keyword research
YouTube On-Page SEO
Special plugin to get insights on your and competitors videos on YouTube
How to get more views on YouTube
Overview of my YouTube channel to give you ideas for how you can grow on YouTube
Introducing the YouTube recommendation algorithm
How to get views from the YouTube recommendation algorithm

Requirements
Be excited and inspired to grow your business or personal brand using top social media strategies
Who This Course Is For?
Entrepreneurs and business owners
People starting out in marketing who want to learn how to promote things in an effective way
WHY DICAZO JAIPUR?
The most important reason why you should consider coming to DICAZO to learn this course is because DICAZO COMPUTER INSTITUTE offers the most integrated courses with the maximum possibility of job opportunities on your profile. As a part of DICAZO India which is a leading platform with thousands of Alumna's and Alumnus's whom have since graduation from the course have been making waves all over there chosen area of concentration while earning big time Cash and Paychecks, DICAZO Jaipur holds much more than just assurance for this course. For more info's on course details or any other issues please call us on 91 9887063980 or mail to:- dicazoinfo@gmail.com.
Students Also Learn These Courses
Frequently Registered Together
Digital Marketing + Video Editing