WordPress SEO Course
Learn how to use WordPress SEO Course from a top-rated project management instructor
Introduction/Course Overview
The Secret SEO System is a step by step WordPress SEO training course teaching you how to build a website from scratch using WordPress. You'll also learn how to apply SEO (Search Engine Optimisation) to your website to get higher rankings on Google, Yahoo and Bing where your customers can find you.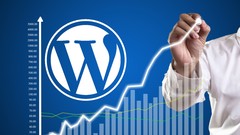 What Will I Learn?
Over 35 lectures and 3.5 hours of content!
Build a WordPress website
Get more website traffic(visits)
Get higher rankings on Google
Optimise website for Search Engines
Start a blog
Make more sales from your website
Includes:
Flexible Batch timing
Subject Notes
Supplemental Resources
Portfolio Preparation
Certificate of Completion
Get Real time Projects to Practice
Attend 2 to 3 Classes with free of cost
Free Technical Support after completing course
If you absent any classes, back up Classes available
Free Technical Support on Freelancing Projects to Earn more Money
Free Interntet and Laboratory Facility
Curriculum For This Course
LEARN TO BUILD A WORDPRESS WEBSITE:

Build a WordPress website from scratch
Learn how to apply SEO to your website>
Have a professional looking website
Low cost/free setup
Get higher rankings on Google
Get more traffic to your website
Get more conversions and sales
Be 100% in control of your own website
Topics covered in this course:

Search Engine Optimisation(SEO) Basics
Domain name setup
Web hosting setup
How to install WordPress
How to install a WordPress Theme
How to install a WordPress Plugin
Top SEO Plugins
How to setup SEO Plugins
WordPress Basics
Keyword Research
Increase user engagement
Social Media Integration
RSS Feeds
Google Analytics
When you enroll in this course:

You have lifetime access to this course at no extra costs, ever.
Any future additional videos, bonuses etc. in this course will always be free.
You have a 30 day money-back-in-full guarantee (no questions asked)
Support is here if you need help or have any questions.
Introduction to Wordpress SEO Development

Why a wordPress website needs SEO & WordPress SEO Development for Small Business
Basic overview of SEO WordPress Website Design Development & Tips for Beginners
WordPress plugins needed that are important for SEO when Developing your Website
WordPress Website Setup & Development

Setting up a Wordpress Website and DNS forwarding in this Wordpress SEO Course
How to add a domain name to your hosting account for your Wordpress Website SEO
How to install a WordPress Website important Training before SEO Optimisation
How to Install a WordPress Theme & importance of Premium WordPress Themes in SEO
How to download a WordPress plugin with this WordPress Development Design Course
How to install a WordPress Plugin in this WordPress Development Design Course
How to optimise your WordPress Permalinks it's very important for Website SEO
Keyword Research
Keyword Research Basics when starting SEO in WordPress Website Development
Case Study of Keyword Research follow this Simple WordPress SEO Training Course
Keyword & Competition Research Continued
On-page
Overview of optimising posts for maximum SEO affects with a WordPress Website
All in one SEO Plugin configuration importanct Plugin for your WordPress Website
Post Title Creation for WordPress Websites
Header Tags Importance in WordPress Website Development SEO for WordPress Sites
When to use bold Italics and underlining in SEO with WordPress Development 101
The importance of great content to boost your SEO naturaly in WordPress Websites
Title Tag Creation For Blogs in any WordPress Site & how important it's for SEO
How To Use The SEO Friendly Images Plugin to boost the SEO in WordPress Websites
Yet Another Related Post Plugin Training in this WordPress Website SEO Course
The Importance Of No Follow Links in SEO when building a WordPress Website
XML Sitemaps, the corner stone of WordPress Website Development & SEO a must see
Customise redirects using the Redirection plugin an essential WordPress Plugin
Engagement and Activity for SEO Training
Why it is important to engage with your readers, this is very important in SEO
Poll creation with wp polls
Lets Discuss DISQUS and how it will help SEO in your Wordpress Development
How to setup DISQUS in your WordPress Website, a great tool for Small Business
Integrating social media with your blog for SEO in WordPress Websites Training
What are RSS Feeds and how to use them with your WordPress Website SEO Course
How to find your RSS feed and replace it with feedburner in your WordPress site
Google Analytics
Google Analytics SEO
How to set up Google Analytics, Training for your SEO WordPress Website in 2015

Requirements
No web programming experience of any kind is required
There may be a small cost for purchasing a domain name & web hosting
Who This Course Is For?
Small Business Owners
WordPress beginners
SEO beginners
Bloggers
Entrepreneurs
No programming knowledge is needed
Even if experienced on WordPress - you'll still learn, get more traffic & increase sales.
WHY DICAZO JAIPUR?
The most important reason why you should consider coming to DICAZO to learn this course is because DICAZO COMPUTER INSTITUTE offers the most integrated courses with the maximum possibility of job opportunities on your profile. As a part of DICAZO India which is a leading platform with thousands of Alumna's and Alumnus's whom have since graduation from the course have been making waves all over there chosen area of concentration while earning big time Cash and Paychecks, DICAZO Jaipur holds much more than just assurance for this course. For more info's on course details or any other issues please call us on 91 9887063980 or mail to:- dicazoinfo@gmail.com.
Students Also Learn These Courses
Frequently Registered Together
Digital Marketing + Video Editing