Twitter Advertising course
Learn how to use Twitter Advertising from a top-rated instructor
Introduction/Course Overview
If you're interested in becoming an accomplished Twitter Advertising, This course is chock full of activities that allow you to practice what you're learning. You'll work with your instructor over multiple Eazl Side-by-Side exercises to craft creative assets specific to Twitter Advertising, install the Twitter Ads Pixel, target Twitter users, and deploy each of Twitter's objective-driven ad campaign formats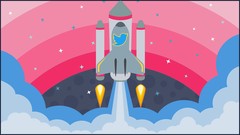 What Will I Learn?
Launch all of Twitter's objective-driven campaigns
Install and use Twitter's Universal Tracking Pixel
Use all of the targeting features in the Twitter Ads platform
Deploy Twitter-specific creative formats (like Twitter Ad Cards)
Includes:
Flexible Batch timing
Subject Notes
Supplemental Resources
Portfolio Preparation
Certificate of Completion
Get Real time Projects to Practice
Attend 2 to 3 Classes with free of cost
Free Technical Support after completing course
If you absent any classes, back up Classes available
Free Technical Support on Freelancing Projects to Earn more Money
Free Interntet and Laboratory Facility
Curriculum For This Course
Learn about the Twitter Network and Build Your Twitter Ads Infrastructure
Access Your Twitter Ads 2020 Study Guide (Important!)
Play the Interactive Twitter Ads Manager Simulation Game
Revealed: The Results of the Twitter Ads Simulation Game
Let's Set Up Your Twitter Ads Account (Beginner)
Let's Set Up Your Twitter Pixel with Google Tag Manager (Intermediate)
Recap: The Twitter Network and Building Remarketing Audiences
Hands On Training: Let's Launch Twitter Advertisements Together
Concepts We'll Be Using to Launch Twitter's Objective-driven Campaigns
Let's Design Creatives in the Twitter Ads Creative Center (Beginner)
Launch a Video View Campaign with a Risk Reversal Strategy (Intermediate)
Launch an Engagement Campaign Using Event Targeting (Intermediate)
Let's A/B Test Ad Content in a Website Clicks Campaign (Intermediate)
Let's Build Brand Awareness with Competitor Audiences (Intermediate)
Let's A/B Test Follower Campaigns vs. Awareness Campaigns (Intermediate)
Let's Launch an App Install Campaign with On-platform Remarketing (Intermediate)
Let's Build Your Retargeting and Campaign Analytics Skills
Let's Create Tailored Audiences with an Off-Twitter Datasource (Intermediate)
Let's Launch a Remarketing Campaign Using Tailored Audiences (Intermediate)
Let's Analyze the Viral vs. Paid Reach of Your Promoted Tweets (Beginner)
Learn 5 Optimization Techniques for Your Campaigns (Intermediate)
Let's Bulk Edit Your Twitter Ads Campaigns (Advanced)
Find Out the Results of Our Campaigns and Request Your Certificate
Find Out the Results of the Campaigns We Launched
Let's Reinforce Some Key Concepts and Get You Your Certificate

Requirements
An active Twitter account
Who This Course Is For?
Existing Twitter Advertisers wishing to get certified in recognition of their skills and experience, or others who wish to train to become accredited Twitter Advertisers.
New managers interested in understanding the key Twitter Advertisement concepts to improve their skills and professional credibility
Professionals in the Twitter Advertisement space who desire to learn the content necessary to become a PMI certified PMP credential holder
WHY DICAZO JAIPUR?
The most important reason why you should consider coming to DICAZO to learn this course is because DICAZO COMPUTER INSTITUTE offers the most integrated courses with the maximum possibility of job opportunities on your profile. As a part of DICAZO India which is a leading platform with thousands of Alumna's and Alumnus's whom have since graduation from the course have been making waves all over there chosen area of concentration while earning big time Cash and Paychecks, DICAZO Jaipur holds much more than just assurance for this course. For more info's on course details or any other issues please call us on 91 9887063980 or mail to:- dicazoinfo@gmail.com.
Students Also Learn These Courses
Frequently Registered Together
Digital Marketing + Video Editing