T-Shirt Design Course In Jaipur
Learn T-shirt Design theory, become a T-Shirt design expert top-rated proffesional.
Introduction/Course Overview
If you're interested in becoming a Graphic T-Shirt designer, this training will establish your understanding of all the fundamental concepts, processes, and techniques necessary to become a dynamic designer. You will spend time concentrating on each knowledge area, and studying the tools and techniques, inputs, and outputs associated with each knowledge area. Specifically, you will c. From there, you will build on that understanding so that you know how to effectively implement the strategies and practices discussed. All in all, you will gain all the skills to be competitive in your career as a Graphic T-Shirt designer.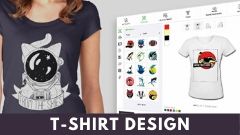 What Will I Learn?
students will be able to create T-Shirt Design graphics from scratch.
3 main types of T-Shirt design graphics.
learn T-Shirt design theory
Includes:
Flexible Batch timing
Subject Notes
Supplemental Resources
Portfolio Preparation
Certificate of Completion
Get Real time Projects to Practice
Attend 2 to 3 Classes with free of cost
Free Technical Support after completing course
If you absent any classes, back up Classes available
Free Technical Support on Freelancing Projects to Earn more Money
Free Interntet and Laboratory Facility
Curriculum For This Course
INTRODUCTION TO GRAPHICS T-SHIRT DESIGN COURSE
To put all the designs together and have enough knowledge to create your very own unique designs
PHOTOSHOP BASIC
Knowing photoshop basics is a key factor.
PHOTOSHOP ADVANCE WALK THROUGH
an advance walkthrough into photoshop and tools you need to get used.
BASIC SHAPE AND ALIGNED TOOLS ALL YOU NEED TO KNOW
Master the shape tools and how to use the align tool effectively in all your design projects
HOW TO USE THE PEN TOOL- TYPE TOOL AND FONTS FOR ALL DESIGNS.
The pen tool is nice to know about for every designer as long as photoshop is concerned so this course will tell you how to use this tool but also the type tool and font selections
TEXT-BASED TYPOGRAPHY T-SHIRT DESIGN
create simple typography text-based designs that sell well on all print on demands
GRAPHICS ONLY T-SHIRT DESIGN
GRAPHICS AND TEXT BASED COMBINATION T SHIRT DESIGN
In this , we will combine both lecture 6 and 7 to create a unique graphic and typography text-based design.
How Well Do You Understand The 3 Types Of Design We Worked On In This Course
What is the difference between these 3?/
HOW TO PLACE DESIGN ON T-Shirt Design MOCKUP AND FINAL THOUGHTS
In this lecture,we are going to show you how to place your designs on mockups to give it a realistic feel and make your design stand out.

Requirements
Students should have a laptop or desktop .
Students should have a Photoshop Software to help create T-Shirt Design effortlessly
Who This Course Is For?
Anyone who wants to become an expert in t-shirt design and make a living from it [ Make Passive Income ]
WHY DICAZO JAIPUR?
The most important reason why you should consider coming to DICAZO to learn this course is because DICAZO COMPUTER INSTITUTE offers the most integrated courses with the maximum possibility of job opportunities on your profile. As a part of DICAZO India which is a leading platform with thousands of Alumna's and Alumnus's whom have since graduation from the course have been making waves all over there chosen area of concentration while earning big time Cash and Paychecks, DICAZO Jaipur holds much more than just assurance for this course. For more info's on course details or any other issues please call us on 91 9887063980 or mail to:- dicazoinfo@gmail.com.
Students Also Learn These Courses
Frequently Registered Together
Digital Marketing + Video Editing