Cartoon character design course In Jaipur
Learn Cartoon character design from our premium tutorials and classes
Introduction/Course Overview
If you have ever dreamt of becoming a character designer or an illustrator of children´s books or just to be able to draw cartoony characters for your kids, even teaching them how to do it, this is the right course for you with very simple technique it will open the doors to your creativity and will take away your fear of failure once and for all. Because this is the only thing that is stopping you from that unfullfilled dream of yours.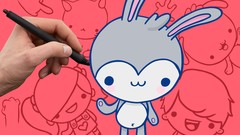 What Will I Learn?
This course will teach you a simple technique that will help you to draw different cartoony characters with different emotions and expressions.
How to find your own style
How to conquer your fear of drawing
What makes a character cute
How to draw different designs
How to pose your character
How to keep the proportions the same in different poses
Includes:
Flexible Batch timing
Subject Notes
Supplemental Resources
Portfolio Preparation
Certificate of Completion
Get Real time Projects to Practice
Attend 2 to 3 Classes with free of cost
Free Technical Support after completing course
If you absent any classes, back up Classes available
Free Technical Support on Freelancing Projects to Earn more Money
Free Interntet and Laboratory Facility
Curriculum For This Course
Loosen your hand
How to draw perspective using a sphere
: How to draw cubes in perspective to draw cartoony legs
Draw advanced cartoon character - An Elephant
Different approaches to draw a cartoon elephant
Draw advanced cartoon character in different poses - Part 1, Happy Elephant
Draw poses of a cartoon elephant - Part 2 Sad Emotions
Draw proportions when posing the character
Draw a cat
Draw different cat designs - a cartoon cat with defined features
Draw cartoon cat with more human-like features
Draw cartoon cat with evil look
How to bring to life even a very simplistic character
Emotions and Facial expressions
Prepare some general facial expressions
Happy Bunny
Sad, angry Bunny
Cheeky Bunny
How to do a Turnaround and keep the character´s proportions
Draw a Turnaround.
Bonus: How to Draw proportions when posing the character.
Draw cartoon hands.
Bonus - How to draw cartoony Fox

Requirements
There is not any requirements for this course.
A computer with internet
Not any previous experience required.
Who This Course Is For?
Beginners Illustrators, Intermediate Illustrators, Animators .
Parents who want to teach their kids to draw, or who want to learn to make a picture book to their kids.
Professionals in the Character designing who desire to learn the content necessary to become a brilliant character designer.
WHY DICAZO JAIPUR?
The most important reason why you should consider coming to DICAZO to learn this course is because DICAZO COMPUTER INSTITUTE offers the most integrated courses with the maximum possibility of job opportunities on your profile. As a part of DICAZO India which is a leading platform with thousands of Alumna's and Alumnus's whom have since graduation from the course have been making waves all over there chosen area of concentration while earning big time Cash and Paychecks, DICAZO Jaipur holds much more than just assurance for this course. For more info's on course details or any other issues please call us on 91 9887063980 or mail to:- dicazoinfo@gmail.com.
Students Also Learn These Courses
Frequently Registered Together
Digital Marketing + Video Editing