Final Cut Pro Course In Jaipur
Learn how to edit videos using Final Cut Pro X with easy-to-follow classes From Beginner to Intermediate
Introduction/Course Overview
In short, you'll learn it all! Seriously, our goal is to make the most comprehensive Final Cut Pro X Video Editing course out there - not filled with fluff, but filled with only the most actionable and latest tips and strategies. We'll be updating this course periodically to make sure we're covering any change with Final Cut Pro. You'll start by an overview of the course, then download the resources and learn about plugins in Final Cut Pro.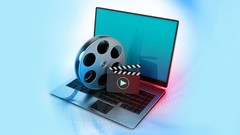 What Will I Learn?
By the end of the course, you'll have edited your own Final Cut Pro X Mini and Master Projects from Scratch!
Edit videos like a professional from beginner to intermediate
Use the default transitions and also create your own from scratch!
Color correct your video to fix any issues with white balance and exposure
Create speed ramps and speed ramp transitions using Final Cut Pros transitions
Create high quality YouTube Videos Editing with Final Cut Pro X
Create High Quality Videos For Your Social Media - like Instagram, YouTube
Export and save your videos for HD playback
Design clean and professional titles for you videos
Edit green screen footage and add backgrounds to take your video to new heights
Add motion to your titles, photos, and videos to make the more visually appealing to your viewers
Includes:
Flexible Batch timing
Subject Notes
Supplemental Resources
Portfolio Preparation
Certificate of Completion
Get Real time Projects to Practice
Attend 2 to 3 Classes with free of cost
Free Technical Support after completing course
If you absent any classes, back up Classes available
Free Technical Support on Freelancing Projects to Earn more Money
Free Interntet and Laboratory Facility
Curriculum For This Course
Introduction
Would You Like To Learn How To Edit Videos Using Final Cut Pro X - Like This?!
Welcome To The Complete Final Cut Pro X Essentials Course - Beginner To Advanced
RESOURCES: How To Download All The Course Resources From This One Folder!
How To Install Plugins For FCPX before We Start Our Project!
The Clips You Will Need For Our First Project!
Let's Get Started Editing Today! Create A 16 Second Intro Mini Lesson!
The Complete Final Cut Pro X Course Syllabus
The Basics: Learn The Final Cut Pro Preferences, Timeline, Hotkeys and More
The Final Cut Pro Interface From Scratch - A Complete Walkthrough
Setting Up Your Final Cut Pro X Starting Preferences
Creating Libraries, Events, and Projects and Importing Video in Final Cut Pro X
Basic Video Edits With Your Imported Footage!
Final Cut Pro X Essential Keyboard Shortcuts!
Final Cut Pro X Basic Keyboard Shortcuts!
Final Cut Pro X Basic Tools
Final Cut Pro Intermediate - How To Add Music, Titles, Transitions, and More!
Sound Effects, Music, and Text
How To Add Transitions
How to Add Effects
How To Crop, Trim, and use the Ken Burns Effect!
Speed Up, Slow Down, Reverse and Stabilize Your Videos!
How To Record a Voiceover in Final Cut Pro X
Final Cut Pro Advanced - How To Install Plugins, LUTS, Color Grading & more!
Color Grading Basics Part 1
Color Grading Basics Part 2
LUTS
Adjustment Layers
Free Adjustment Layer From YouTube!
Exposure
Color Curves
Advanced Color Grading
Censor Effect
Opacity and Blend Modes
Color Masks
Color Wheels
Color Presets
Hue
Saturation
Shape Mask
Two Video Clips for Example
Draw Mask Tools
Final Cut Pro Transitions and Effects! YouTube Effect Tutorials and more!
FLY THROUGH MASK TRANSITION EFFECT! Final Cut Pro X Tutorial
Pull Back From Your Screen Effect I Final Cut Pro X Tutorial
FREE RGB ZOOM TRANSITION EFFECT! FINAL CUT PRO X
FREE LETTERBOX AND ADJUSTMENT LAYER TUTORIAL EFFECT! FINAL CUT PRO X
How To Upload Videos To Instagram!
NEW EFFECT! The Peter Mckinnon Roll on Letterbox Effect!
NEW EFFECT! The GOOGLE EARTH ZOOM IN EFFECT
Requirements
Students should have Final Cut Pro X installed on their computers to follow along. There are MULTIPLE PRACTICE EXERCISES throughout this course with downloadable practice clips
You DO NOT need any prior video editing knowledge before taking our course!
You will need a computer and the Internet to access to use this course
Who This Course Is For?
You are a complete beginner who has never opened Final Cut Pro X (or have never learned how to use it to edit videos properly)
This course is for beginners and intermediate users looking to create and edit amazing videos with Final Cut Pro X
You might know how to edit with Adobe Premiere Pro CC, iMovie, Sony Vegas, Premiere Elements, Windows Movie Maker, Camtasia, or Screenflow, But you want to transition to editing with Final Cut Pro X
Anyone looking to learn how to edit like a professional using Final Cut Pro X
Anyone interested in learning the ins and outs of Final Cut Pro X
Editors knowing other editing software and wanting to switch to Final Cut Pro X
WHY DICAZO JAIPUR?
The most important reason why you should consider coming to DICAZO to learn this course is because DICAZO COMPUTER INSTITUTE offers the most integrated courses with the maximum possibility of job opportunities on your profile. As a part of DICAZO India which is a leading platform with thousands of Alumna's and Alumnus's whom have since graduation from the course have been making waves all over there chosen area of concentration while earning big time Cash and Paychecks, DICAZO Jaipur holds much more than just assurance for this course. For more info's on course details or any other issues please call us on 91 9887063980 or mail to:- dicazoinfo@gmail.com.
Students Also Learn These Courses
Frequently Registered Together
Digital Marketing + Video Editing