Module1. Illustrations & Web Imaging
Planning a website using a structured document
Site Navigation Types
Advanced Responsive UI by creating web assets
Typography and colour sense for Web design
Scribbling the layout
Creating web templates
Slicing the templates
Recognizing Good design vs. Bad Design
Optimizing images for faster downloads
Module2. Core UX & Web Functionality
HTML5/CSS3 with Dreamweaver CC
JQery and Bootstrap,
Creating and Testing Responsive design
Web 3.0 standards,
Java Script,
Testing and Maintaining a website,
FTP controls.
Module 3. Core PHP & content management systems
Installing Servers for PHP testing
Arrays, Super Arrays ($_GET, $_POST, $_SESSION)
Strings, Form Functionality, Form Validations
Running MYSQL Queries through PHP
Setting Joomla Content Management System
Setting WordPress Content Management System
Admin controls and modifications in CMS Database
Designing Dynamic Websites using PHP
Module 4. Advanced PHP & E-commerce integration
Classes and objects in PHP (OOPS)
OOPs, OO programing or object oriented programming.
Inheritance, Abstraction, Polymorphism, Encapsulation
Difference between PHP 3 ,PHP 4, PHP 5 and PHP 6
AJAX- Connecting & checking server using JavaScript
Checking XML HTTP request object in browsers
Discussing PHP Frameworks
Integrating Shopping Cart integration in website
Setting up/ Checking E-Commerce in a website
Practicals and Live Projects
Module 5. Advanced HTML5/JQuery and CSS3
Vision and Future of HTML5
HTML5 elements and attributes.
Using the audio, video and canvas elements.
Using new JavaScript APIs. and JavaScript alternatives
Data Storage in HTML5, Offline Applications, Geolocations
HTML5 Web Workers, Messaging APIs, Web Sockets
Applying JQuery, JQuery as alternative for Flash
Selecting and Manipulating DOM Elements with jQuery
Event-Driven Programming with jQuery
jQuery and Ajax
Module 6. Digital Marketing- Advanced SEO
Understanding SEO and why is it required for your business?
Analysing site for SEO- Diagnosis Report Vs Treatment
Undertanding Panda/ Penguin/ HummingBird/ Pigeon etc.
Working on URL/ Meta/ Title Alt/ HTags of your site
Setting up/ Managing WordPress blog on your site
Competitor analysis & strategising your SEO
Quality backlink generation through High PR/ PA/DA sites
Google My Business/ Classifieds/ Forums/ Bookmarking content
Creating high quality and engaging contents
Video Sharing/ Content sharing through Web 2.0 data
Module 7. Advanced PPC & Remarketing
Setting up first Adwords campaign for your website
Managing My Client Center for Adwords
Creating attractive ads with high quality scores
Landing page creation for better ROI and CPA
Setting up goals and funnels in Adwords Campaign
Remarketing and developing audience,
Managing CPC & increasing Conversions for Campaign
Setting up and mangaing Adsense
Managing Ad Extensions & Display networks
Bing/ Facebook/ Twitter Paid ads management
Reporting and Case Study
Module 8. social media optimization (SMO)
Understanding & levaraging value for your business through SMO
Setting up FB Business page and increasing engagment on Business page
Creating engaging posts/ contests/ culture/ events
Managing insights/ Talk-abouts and reviews from audience
Managing SM eg. Linkedin, G+, Youtube, Pinterest, Twitter etc.
Video / Photo / Audio Sharing (YT, Vimeo, Flickr, Podcasting)
Managing Coupon based sites and Location based services
Scheduling posts for better results
Strategising SMO Proposals for Ecommerce sites
Integrating Social media marketing with SMO
Word of Mouth and Viral Marketing through SMO
Measuring ROI, financial, customer satisfaction, awareness
Module 9. Analytics & Google Search Console
Setting up Analyics/ Webmaster tool
Applying Analytics/ Webmaster code on site
Applying Data structure/ Highlighter/schema.org on site
Applying Disavow for removing bad spammy links
Removing errors on site reported by GWT, Bing WM
Setting up Authority on website
Managing "Google My Business" through GWT
Understanding Organic/Paid/Referral/ Direct Traffic in GA
Adding/ Managing more sites in Google Analytics
Observing traffic trends in GA
Module 10. Email/ Affiliate/Mobile marketing
Email content that drives more Conversions
Building and managing an Email list
Driving response with Psychology-based Marketing
Writing Conversion (copywriting & content essentials)
Email Newsletter foundations: A Roadmap for Success
Maximize Email deliverability to drive revenue
Best affiliate sites for monetization- Setting up acounts
Obtaining/ placing tracking code & getting approved for AP
Generating revenue through a membership site/ list building
Generating revenue through Mobile Messaging/ Apps
Whatsapp Advertising/Mobile Video sharing
What Is The Fees Of Web Development Course?
Basic fees starts from Rs. 15,000/- while advanced level courses cost more. The fees will may vary depending on the course you choose. There are also levels of training you can choose based on your existing knowledge and choose the course that meets your requirement.

Web Design, Development Course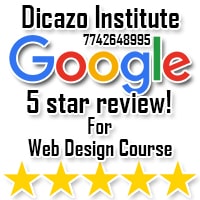 Rated 4.9/5
(based on
1350
customer reviews)