Web Design Training Institute In Jaipur
The Advanced Certification course in Website designing is a 100% practical web design course that encompasses all the essentials of web responsive design based on latest international demands and trends. This course is one of the numerous practical web design courses offered by Dicazo, a leading web designing institute Dicazo has the vision of equipping students to design web sites for corporate, B2B, B2C, Ecommerce etc.
OBJECTIVE
The Advanced Certification course in Website designing is a practical course covering Advanced UI design and UX development intended to train the students through live projects, the intricacies of web designing to promote content Management, Excellent User Experience and efficient site architecture for search engines. This course would also include Domain, hosting and payment gateway integration for students interested in becoming online business owners. With this web designing course, student would be able to develop their skill set in designing internationally standard and state of art websites and also benefit from the course incorporation of web marketing, advertising as well as optimizing websites for search engines. Being leader Dicazo becomes the first choice of all the web design aspirants.
COURSE OUTLINE
Web User Interface (UI) design
Core Web Design and designing responsive websites
Web Design Project + Internet marketing (Overview)
Web Domain and Hosting maintenance
For a complete breakdown of the modules in a this web Designing courses,

At the end of this web design course, Projects would be conducted and each student would be expected to build a web design portfolio for the purpose of placements. Web projects would include
Design of a single page product website
Design of an simple e commerce website
Design of responsive website
Design of a form based interactive website.
SOFTWARE COVERED
Adobe Photoshop cc
Adobe Illustrator cc
HTML4/ HTML5
Adobe DreamweaverCC
JQuery
Bootstrap
FTP applications
AT THE END OF THIS COURSE, STUDENTS WOULD BE ABLE TO
Create Responsive Websites
Use web navigation on web 3.0 standards
Integrate variable scripts in a web page and create table-less websites
Upload and Launch Websites
AFTER THE COURSE, STUDENTS WOULD BE ABLE TO WORK AS
What Is The Fees Of Web Design Course?
Basic fees starts from Rs. 15,000/- while advanced level courses cost more. The fees will may vary depending on the course you choose. There are also levels of training you can choose based on your existing knowledge and choose the course that meets your requirement.

UI/ UX Web Designing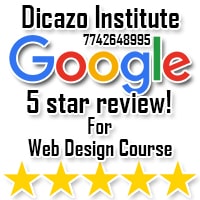 Rated 4.9/5
(based on
1860
customer reviews)
Programme Schedule

Normal Track
Course Duration:
4 months
Schedule:
1 Hour/5 days a week
Fast Track
Course Duration:
2 months
Schedule:
2 Hour/5 days a week