OBJECTIVE
The Advanced Diploma In Multimedia and Animation course would take the student through all the areas of digital creative media namely graphic, web, animation & broadcast, polishing his or her skills for the challenging media industry as wells as exposure in order to keep the student at par with the demands of the industry. It is one of the multimedia courses in Delhi intended to bridge the gap between the Multimedia industry and the Multimedia education Sector.
MULTIMEDIA & ANIMATION COURSE OUTLINE
This course has six parts
Graphic Design
Web Design & Interactive Multimedia
2D Classical Animation
3D modelling/ Texturing/ Lighting/ Rigging and Animation
Sound production
Post production
CAREER OPTIONS AFTER COMPLETION OF ADMA
Graphic Designer
Web Designer
2D animator
3D Animator
Motion Graphics Artist
Video Editor
Sound Editor
3D modeler
Compositor
Rigging artist
Lightning artist
Texturing artist
PORTFOLIO DESIGN
After this multimedia course in Delhi, a portfolio would be design as follows.
Graphic Design: Separate Hardbound portfolio containing digital imaging, branding live projects, mock advertising campaigns, info-graphs, design booklets, web UI designs, 360 degree design works, LIVE PROJECTS etc.
Web Design: Separate web/digital portfolio containing complete functional web layouts, web ad banners, landing page designs for email campaigns, simple mobile/ web games, animated & interactive web sites, LIVE PROJECTS etc.
2D/ 3D Animation: Separate digital showreels for 2D Animation and 3D character Animation, Inorganic rendered images for architectural 3d and games with high class render of texture and lighting.
Audio/ Video Post-Production: Separate digital/ web portfolio containing Live motion Composting, logo motions in sync with high quality sound VO and BG score, Finished exercises of Roto and Chroma.

Multimedia And Animation Course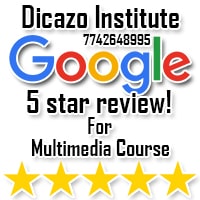 Rated 4.9/5
(based on
850
customer reviews)
Programme Schedule

Normal Track
Course Duration:
12 months
Schedule:
1 Hour/5 days a week
Fast Track
Course Duration:
8 months
Schedule:
2 Hour/5 days a week