Objective:
The very purpose of learning CorelDraw is that of forming object based designs such as logos, company identities, brochures and catalogues with fine skills and depth of creativity. Corel draw training might be either entry level or advanced level. The objective of either of the programs is imparting you the proper knowledge of concepts right from the basic level to mastering of the elements depending upon your requirements, and time period you can invest. It focuses on covering of the minute concepts of advertising and graphic designing with efficiency in skills, and completion of projects within the bounded time meeting the deadlines.
CorelDRAW is an effective vector graphics editor software for graphic designers. In this CorelDraw Training Courses in Jaipur, you will discover & get to know the standard methods and abilities that will provide an excellent training in editing graphics with CorelDRAW.
CorelDraw training in Dicazo provides the General details of CorelDraw with Hands-on exercises familiarize delegates with the ideas and operations.
Corel Draw Course will teach you tools , options used to create works such as posters, flyers, brochures, magazines, newspapers, and books. CorelDraw (styled CorelDRAW) is a vector graphics editor developed. It is also the name of Corel's Graphics Suite, which bundles CorelDraw with bitmap-image editor Corel Photo-Paint.
Course Outline:
The course syllabus consist of-
Comprehensive processing of word and publishing integration through CorelDraw latest version.
Corel Draw course helps you to create and modify objects for graphic design purposes.
Effects and features are covered up under the segment of creating complete publishing layout with utmost seamlessness.
CorelDraw Premium Suite training helps you comprehend the advancedment in designing graphics etc.
Course Outcome:
On the completion of course, the student will have sufficed knowledge about the entire software. He will be well versed with drawing grids, segments, using rulers, coloring, manipulating effects, moderating shapes etc.
Technologies Used:
It uses various technologies like formatting, editing, imprinting images, blending and pleating of images etc. Importing, exporting, printing, creating special effects etc are used in order to make the conclusion realistic.
Career Scope:
You can be placed as a graphic designer in most of the reputed companies in almost all industrial sectors around the globe. With the growing demand of entertainment and art, you will get opportunities to choose from the wide range of options.

What Is The Fees Of Coreldraw Course?
Basic fees starts from Rs. 5,000/- while advanced level courses cost more. The fees will may vary depending on the course you choose. There are also levels of training you can choose based on your existing knowledge and choose the course that meets your requirement.

Corel Draw Course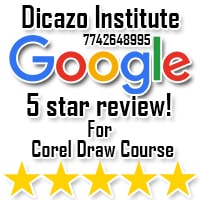 Rated 4.9/5
(based on
500
customer reviews)
Programme Schedule

Normal Track
Course Duration:
2 months
Schedule:
1 Hour/5 days a week
Fast Track
Course Duration:
1 months
Schedule:
2 Hour/5 days a week